Movies are a great way to get fashion inspiration. Movie sets work with talented stylists to create looks for the movie that captures the character they are playing. Most stylists have experience and knowledge in costume making, fashion design, and fabric history. Without a doubt, stylists love shopping second-hand, scouring vintage and high-end boutiques for the perfect look to match a certain time period. Stylists that work on movie sets have impeccable attention to detail and can identify quality clothing. Clearly, the skill to mix and match styles to perfection benefits the viewer. Also, stylists have an innate ability to identify flattering silhouettes, color palettes, and ooze creativity. If you would like to see something that will inspire your future outfits but also entertain you, then these are movies for fashion lovers you can't miss. I highly recommend the style inspiration they provide.
Over the years, many famous designers have created costumes for movies that became extremely popular. From Dior's dressing Marlene Dietrich in her infamous movies to Givenchy's famous black dress in Breakfast at Tiffany's and lastly Prada's costumes in The Great Gatsby. All these fabulous and remarkable costumes marked some of the most memorable eras just like the designers that have made them.
Before listing the lineup of movies for fashion lovers and getting lost in fashion inspiration. I must mention Patricia Field my favorite costume designer, stylist, and fashion designer. She is responsible for the creative combos in Sex and the City and The Devil Wear's Prada! She is a true artist and provides much inspiration. Here are 21 must-watch movies for fashion lovers.
1. Breakfast at Tiffany's
No one who watched Breakfast at Tiffany's will forget its opening scene. Audrey Hepburn appears as Holly Golightly, wearing a black sheath dress with a pearl necklace, and black opera gloves while eating a croissant in front of Tiffany's window. Hubert de Givenchy designed the famous dress and remained friends with Audrey for almost 40 years.
2. Valley of the Dolls
This movie is a real showcase of the '60s fashion. On-screen, characters wore long printed slip dresses, a splash of colors, massive accessories, and wannabe Pucci caftans. Retro chic looks like that one with a brown beret or all-pink-everything outfit are making a comeback and can serve as a great fashion inspiration.
3. Desperately Seeking Susan
Once you see Madonna in a movie, you know it is going to be full of one of a kind outfits. In other words, Desperately Seeking Susan is one of those essential '80s movies for fashion lovers you need to see. This movie is packed with iconic fashion inspiration. Most memorable are the glittery jackets and studded ankle boots styled throughout the movie. As well as Madonna's famous accessories big bows, crosses, stacked bracelets, layered necklaces, and rosaries.
4. Working Girl
If you need to learn about the culture of power dressing, then you must watch Working Girl. Shoulder pads, big hair, wide shoulders, and fitted jackets – all these costume elements were presented as a part of power dressing worn by Melanie Griffith and Sigourney Weaver. In addition, some looks from the movie were Giorgio Armani's since the house became a symbol of the timeless power suit.
5. Boomerang
Some say this is the most romantic and underrated Eddie Murphy's movie. I personally loved it! The 90's fashion in it is very unforgettable. Robin Givens outfits in this movie steal the show. Fashion inspiration ranges from classic trench coats, two-piece matching power suits, and elegant yet sexy evening wear. The most timeless and interesting look is the vivid fuchsia pink bodycon dress worn by Robin Givens.
6. Pretty in Pink
Growing up with little money to spend on clothing, Andie had to get creative with her looks. She was attending a private school and was putting together looks from thrift shops and consignment stores. Her looks stood out from the crowd against the preppy norm. Indeed, that is the beauty of her character. Her clothing was a "Do-it-yourself" variety and had the eccentric nature of the '80s with a strategic mix of fabric, lace, grandma broaches, unique buttons, and funky hats. From plaid, lace, and shoulder pads to Duckie's blazers, vests, and shoewear – these are just some of the memorable looks.
7. Ocean's Eight
The designer of Ocean's 8 costumes was very intentional when picking looks for each of the woman's characters in this movie. While Sandra Bullock is wearing bold coats, cutout dresses, and minimalistic lines, Rihanna wears oversized men's clothing. In contrast, other characters are wearing powerful yet retro combinations, that are hard to forget, once you see the movie.
8. Waiting to Exhale
This movie is all about glamour. This is one of the movies for fashion lovers that you need to watch if you need an elegant outfit inspiration. Angela Bassett wearing a creme-colored sweater with a pencil skirt or strappy black dress worn by Whitney Houston are outfits that you can wear now and look absolutely fab.
9. St. Elmo's Fire
St. Elmo's Fire is a movie about a group of friends, just graduated from college, walking towards the future together. From Alec's long duffle coat, Wendy's bow-tie shirt and lilac cardigan, and Leslie's plaid dress with leather sachet – these are all the looks that are timeless and great re-create for a fresh take.
10. Mean Girls
Mean Girls are filled with early-2000s fashion. It is an extremely popular movie that taught us how it was like to be a teenager in the U.S.A. Think Juicy Couture tracksuits, Louis Vuitton handbags, slogan T-shirts, and everything pink – that is how fashion in the early 2000s looked like. And we loved it, all those good and bad moments of it.
11. Scarface
Michelle Pfeiffer's outfits from Scarface are iconic from the moment the movie was released. Her character Elvira Hancock wore some of the most exceptional and provocative attires – silk, plunge neck slipdresses, bold earrings, and tailored white suits. Neutral, as well as jewel tones, dominate her wardrobe. These looks are totally worth trying out.
12. American Hustle
Not only is this movie stocked with the A-list actors, Amy Adams, Jenifer Lawrence, Christian Bale, and Bradley Cooper, but also great vintage costumes are definitely worth seeing in American Hustle. Costume designer Michael Wilkinson gathered a lot of vintage Halston and Diane von Fürstenberg dresses that he used for Amy Adams outfits.
Jenifer Lawrence wears a flashy animal print and metallic evening gown. Cooper and Bale look exceptional in sophisticated matching suits with interesting accessories.
13. Clueless
Memorable looks worn by Cher Horowitz are numerous. Chic California teenagers dressed all in the '90s favorite trends – yellow tartan schoolgirl, white Calvin Klein dress, and many others. This movie is the must-watch movie for fashion lovers, no matter how old you are. Cher will make you laugh, while her looks will inspire your future outfits.
14. Devil Wears Prada
Devil Wears Prada is not a fashion movie – it is the fashion movie every woman needs to see. Costume designer Patricia Field has done an excellent job in selecting the right outfits for each character.
Meryl Streep as Miranda Priestly editor and chief of Runway wears power suits, jewel-toned velvety dresses, massive coats that leave no one indifferent (especially not Andy when she throws them over her desk). Her oversized sunglasses leave us no choice but to choose our own pair.
Anne Hathaway's transformation from her blue sweater and plaid skirt throughout completely Chanel look and Paris outfits are remarkable. The other assistant Emily, played by Emily Blunt wears more bodycon outfits, neutral tones with a gingham print.
15. Confessions of a Shopaholic
Rebecca Bloomwood is addicted to shopping. However, she accepts the job that will help her pay a debt. Rebecca Bloomwood is more than a shopaholic. She enjoys fashion and we can see that through her outfits.
Patricia Field has done an amazing job (yet again) in creating vivid, modern, and memorable looks for this movie. Rebecca's green scarf, statement belts, and sequined jacket will make you watch the movie all over again.
16. Sex in the City the Movie (1&2)
Again, we can thank Patricia Field for the amazing costumes we can see in both Sex and the City movies. The movies weren't so good as the HBO series, but we have to admit – costumes were impeccable.
Everyone who has seen the movie was amazed by the scene when Carrie Bradshaw appears in Vivienne Westwood's wedding gown. Manolo Blahnik shoes, as well as Louis Vuitton bags (the famous scene with Jenifer Hudson), dominated through the movie.
When it comes to Sex and the City 2, the movie didn't get good critiques, yet the fashion remained perfect. Carrie, Miranda, Samantha, and Charlotte's outfits at their vacation trip are just amazing, full of colors and loose cuts.
17. Marie Antoinette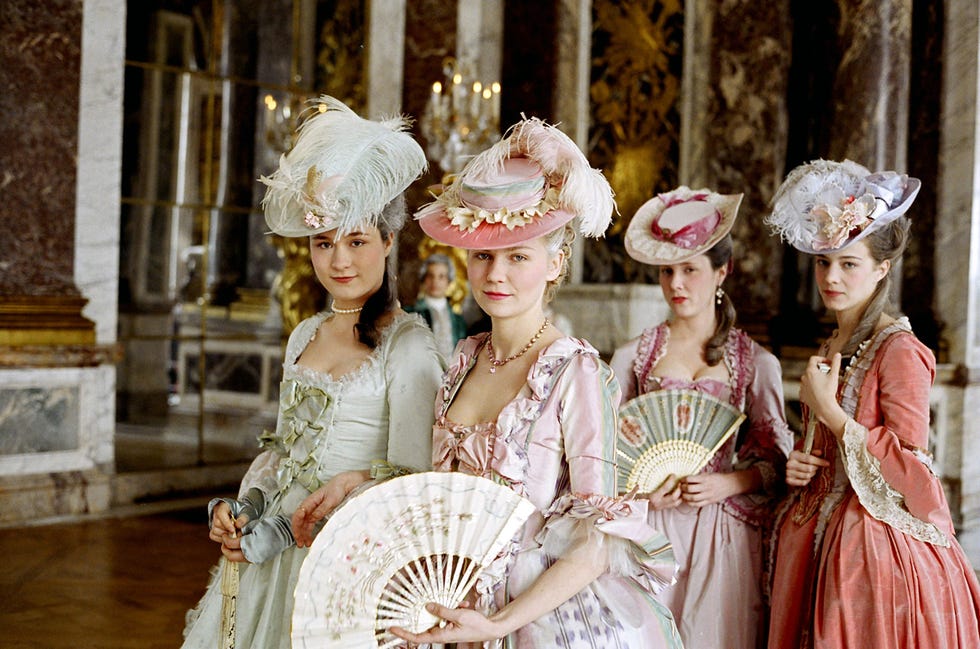 Sophia Copolla's movie about the fate of Marie Antoinette is a feast for the eyes. Not only the costumes but the scenography is amazing. When Manolo Blahnik does your shoe collection for the movie, you know you did the right thing. That is why this is one of those movies for fashion lovers worth seeing!
The scene where you can see every pair of shoes he has done is simply adorable. From tasseled mules to ruffled pumps – everything looks extravagant, just like Blahnik!
18. Pretty Woman
It's been over 3 decades since Pretty Woman was released. Yet, the Julia Roberts looks are still unforgettable and very stylish. Starting with one of the most iconic looks in cinematic history, red off-the-shoulder gown and white opera gloves, that Julia's character Vivian wears for a date with Richard Gere.
Do we need to mention those black patent-leather over-the-knee boots? They became famous thanks to Vivian! Those giant hoops are certainly iconic as well.
19. The Great Gatsby
All 40 looks in the movie The Great Gatsby were designed by Muccia Prada. She created many glamorous pieces worn by Carey Mulligan's character Daisy. Alongside Prada, Tiffany & Co. designed the diamond headpiece that stays truly memorable. You need to put this roaring '20s classic on your movie list.
20. Dazed and Confused
Those relaxed summer days and a bunch of teenagers, presented in the movie Dazed and Confused are followed with exceptional outfits. According to the costume designer Katherine Dover, all looks were true to the era and vintage. Different accessories and special details were incorporated into the characters.
Conclusion
From the 1920s relatively new fashion designers started working on movie costumes. Coco Chanel, Christian Dior made a huge impact, but it was Givenchy who started it all with Audrey Hepburn's movie Sabrina. The rest is history. Many movies showed fashion in the best possible way, alongside the actors.
These movies for fashion lovers are the must-watch. Whenever you have time, try to see how fashion has changed throughout history, yet it still has a great impact on all of us.